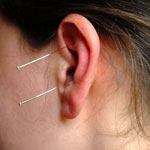 The ear has many Acupuncture points which correspond to many parts and organs of the body. Auricular therapy is widely used for many conditions, including addiction treatment, mood disorders, obesity, pain, and other conditions.
Ear acupuncture is generally incorporated into a regular acupuncture treatment. In addition to using acupuncture points on the rest of the body, your acupuncturist may select a few ear acupuncture points that he or she feels will be helpful for your particular condition.
Ear acupuncture points may be stimulated for a longer period of time by using ear seeds. Ear seeds are small silver balls that are held in place on the ear with a small piece of adhesive tape. Ear seeds may be left in the ear for a few days or up to two weeks.

Dr. Kristen Lum  ND, LAc, MSOM
3750 Main Ave. Unit 1 
Durango, CO. 81301
970.382.9100
Live Healthy
Live Consciously